Tikrai Nauja kennel (1988-2008) story by Andrius Čečys
The story is about me and dobermans begining in 1988. At this moment I was thirteen years old boy and I wanted a dog, so my parents went to the center of Kaunas to the club named DOSAF, in the club they saw who are selling dobermans ,went there and bought a little doberman female named Lora.
Lora started to live in our home, and it was the begining of our Friendship. We were walking in the yard, forests or fields,  started to get first lessons of training. But the biggest  part of the day I was at school and my parents were at work so Lora stayed alone and  it was very hard for her. She was barking all the day. We started to complain with our neighbours and that was the reason why we spread out. My parents gave away 3 years old female to their friends. They were living in the village so they had more time to communicate with my best  friend Lora.
It was a period without  doberman, years were passing and I was growing up, finaly we moved to another district of Kaunas, living place became much biger and I've got a chance my biggest dream to came true. I talked to my parents and asked them to let me get brown Doberman named Lordas (it was alimental puppy from Vladivostok) and belongs to Diana Degutiene. Diana was a president of Lithuanian Dobermann Lower Club ,and owner of famous Doberman  reproducer  Astor Majstersztyk of that time. So I got Astor's sun , but unfortunately he lived only few month –he died from enteriovirusus. So I don't have DOBERMAN again, but I could not see my life without DOBERMAN, because of  this reason I became an active and youngest memmber of  Lithuanian Dobermann Lower Club. I learned a lot about breed in Lithuanian Dobermann Lower Club. At 1994 after consultation with Diana I bought Dorsas Piligrimas (breeder Viktorija Govarenkoviene). Dorsas was a Dobermann from capital "D", great dog . So we were growing up and started days in shows. At 1995 we won a lot of shows, took a part in a lot of seminars about training in obedience, tracking and defense. I found a dogs training school .Dorsas was learning and  I was learning with Dorsas also .We are getting on the top  and coherence with me and Dorsas became stronger and stronger. He was my best friend, in 1996 Dorsas became a Champion of Lithuania, we often were in competitions of obedience and we were wining very often.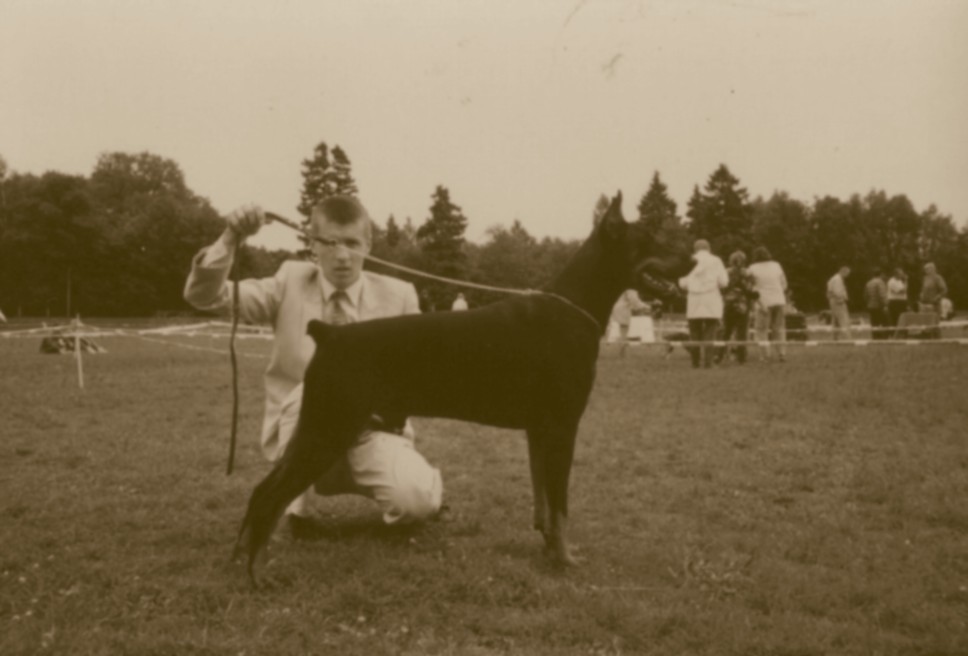 DORSAS PILIGRIMAS
In 1997  I decided to by a second male, and  after consultation with active members of our new Lithuanian Dobermann Owner club I  bought an elegant  male named Doktor  with :Les Peupliers kennel blood lines(breeder Ole Vandso Andersen).This male was also very good in shows ,and work career. Doktor was first dobermann in Lithuania, who passed IPO-1, IPO-2. Also Doctor took fourth place in intermediate class in world dog show in Finland at Helsinki.
1999 was wonderful year –I meet my wife Egidija, she felt in love not only with me but also with the majesty DOBERMAN. Very quickly we got very lovely, temperament and nice female Gova Gracija Piligrimas. She didn't make a big show career because one ear wasn't stand correct. Vet. Doctors try to correct an ear but ineffectively, so Gova get only a few  CAC and  1 show winner. We mated Gova Gracija with Tsezar iz Slavnoi Stai.(This male we bough in Moscow).From Gova Gracija we get fantastic "E" litter  .From this litter  most famous  was Erlando Tikrai Nauja and Evita Ester Tikrai Nauja(Evita in very fast time became Lithuanian young champion, and young club winner).
| | |
| --- | --- |
| | |
| DOKTOR FAVORITAS | LEDA LADEIRA |
With Tsezar iz Slavnoi Stai we won a lot of shows, he became most titled male in the East Europe at that time. It is sad that Tsezar had only a few litters and we didn't have any progeny of Tsezar(we left in kennel Evita Ester Tikrai Nauja but she get in accident and died).
The year 2002 I can call new era of our kennel. We bought our lovely Ati Akira Piligrimas-Sakira(home name). She  charm us with wonderful character  and  beauty . Very fast she became Youth champion of Lithuania  and Latvia .For my opinion Ati Akira Piligrimas  was so close to doberman standard by exterior and working quality .So I think that Ati Akira blood line is one of the best and I try keep on this line, and make this line one of  basically blood lines in kennel Ati Akira  had two wonderful litters for us "H" and "I".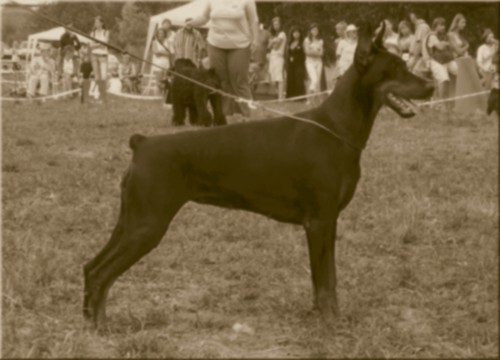 ATI AKIRA PILIGRIMAS
From  litter "H"(father Livonijas baron Heart of Hamlet)  most expressed and the famous  are Habanera Tikrai Nauja ,Hoomer Boomer Tikrai Nauja  and Happy Hertzog Tikrai Nauja and from  litter "I"(father Fedor Del Nasi) most expressed and famous are Italia Tikrai Nauja and Imperatrica Tikrai Nauja whose from baby age got first places in dog shows.
I Also want to tell  about Leda Ladeira Favoritas(co owner A.Ramanauskas),she was living for about three years in our kennel at this time she took a part in dogs shows and became Lithuanian Champion and gave us two litters "F" and "G".The Most famous was litter "F", from this litter we got two champions  Farrera Tikrai Nauja(Youth Champion of Lithuania) and Foresto Tikrai Nauja(Youth Champion of Lithuania and Champion of Lithuania, also Fabiola Tikrai Nauja  who won a fewshows but also with very good  working temperament. A few years in our kennel living Copacabana vom  Residentshlos with her we passed IPO-1 with excellent results. After exams we already knew that owners of Copacabana vom Residentshlos had some problems with the family  and wanted to sell her. We wanted to buy her ,but  owners sold her to Latvia, to kennel Gem'Givveeon.
At 2005 after our dobermann club special show  our good friend Viktorija Govarenkoviene invited us to visit her. And  in "Piligrimas"  kennel I saw  young but very strong , big and with good drive  female- Diva Divine Piligrimas, so Viktorija sold us Diva.We got first brown and tan female to our  kennel and we started show career with six month old female ,and got a big success.
Also we bought an elegant female Imidz Rokoko Akvarell Drei Haus who became Youth Champion of Lithuania.
So that's  the short story about little kennel from center of Lithuania, from Kaunas.Our credo:
WE BREED DOBERMANNS WITH EXCELLENT EXTERIOR, WITHSUPER DRIVE, WITH VERY GOOD CHARACTER AND ALSO HEALTHY DOGS. ALL OUR DOGS ARE IN GOOD CONTACT WITH OWNERS AND A SPECIALLY WITH CHILDS.
For all  dobermann  fan's feel free in contact with us ,we are open for all communication  about dobermanns.
English